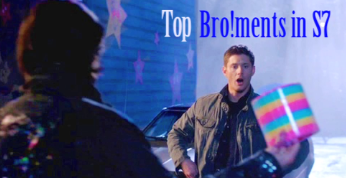 I am totally wearing my heart on my sleeve here, but stuff it! I love the SamnDean bromance in the Show and I'm not ashamed to admit it. I've been thinking about the broments in S7 and thought I'd share.
( Top Bro!ments in Season 7 (image heavy) )
We may not have had the heart wrenching angst or overt bro!moments in S7 but the overall feeling of them working as a unit, figuring out their trust issues and demonstrating their CONSTANT LOVE FOR EACH OTHER made this season enjoyable for me.
I may have missed some moments (or yours might be different) so feel free to let me know!
Screencaps from

homeofthenutty
. Colouring and cropping by me. Thanks to

el1ie
for the twice over and suggestions. (though I've tinkered a lot since the last look /o\) <3